You're still here. You're still breathing.
Dear Friends and Family,
Today's letter is about my experience with Homies Empowerment; if you are able, please consider donating via PayPal (teolol@yahoo.com) or Venmo (@César-Cruz-22).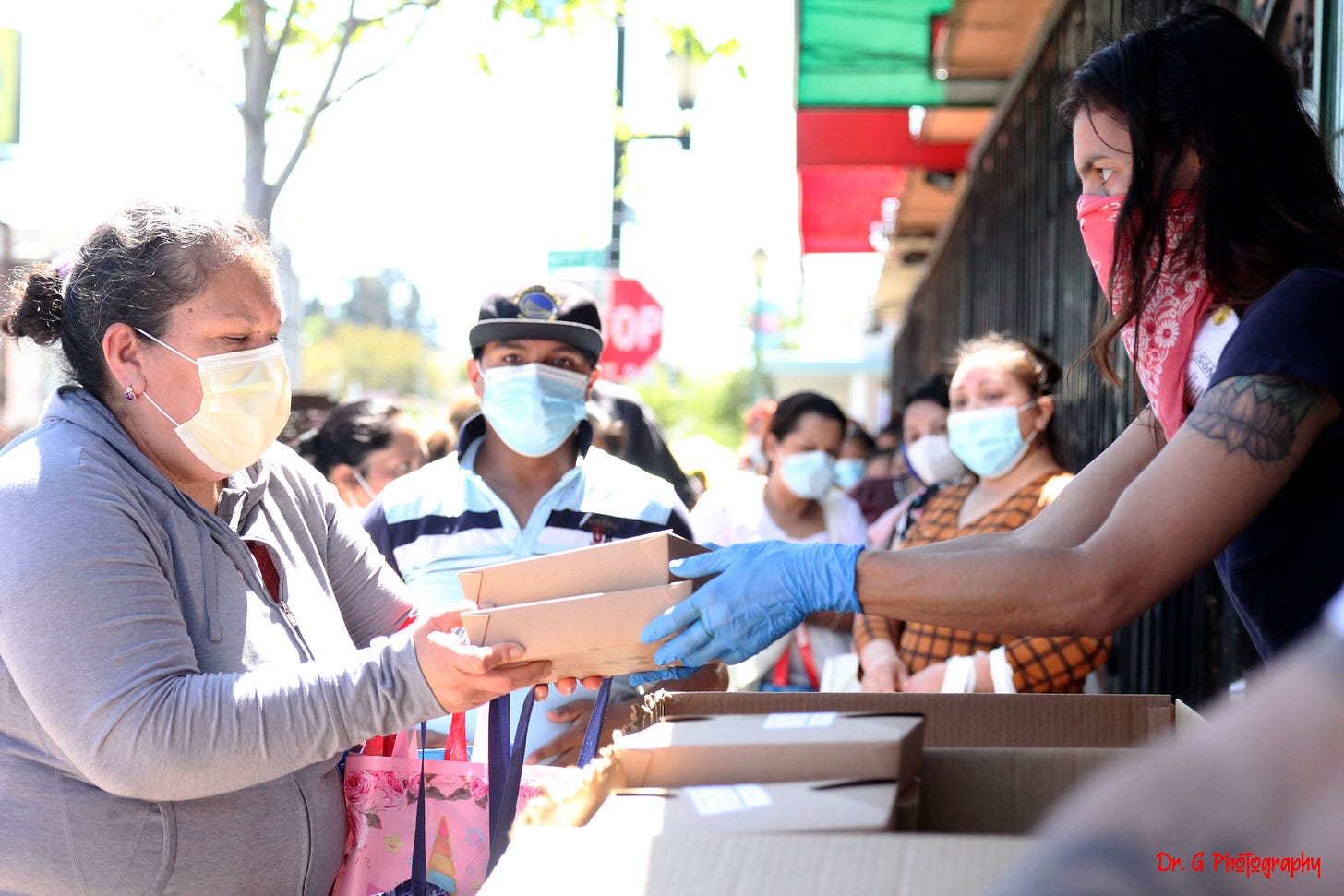 Four weeks ago, I went—for the first time—with my husband and daughter to the Homies Empowerment FREEdom Store. For an hour, we helped organize canned goods, pasta, fresh produce, bread, water, cooking oil, cleaning supplies, diapers, wipes, toilet paper, feminine products, etc. We put them on sidewalk tables outside of empty storefronts on what should have been a busy Oakland street. 
We worked in the direct sun with no trees, no shade, and no breeze. We wore masks, plastic gloves and sweat. Meanwhile, women and babies, men and children formed a line down the block and around the corner for two more blocks. They also wore masks, stood six feet apart in the direct sun and waited—sometimes for hours—for the FREEdom Store to open.
I asked César, the organizer, what I could do to help, and (paraphrased by me) he said: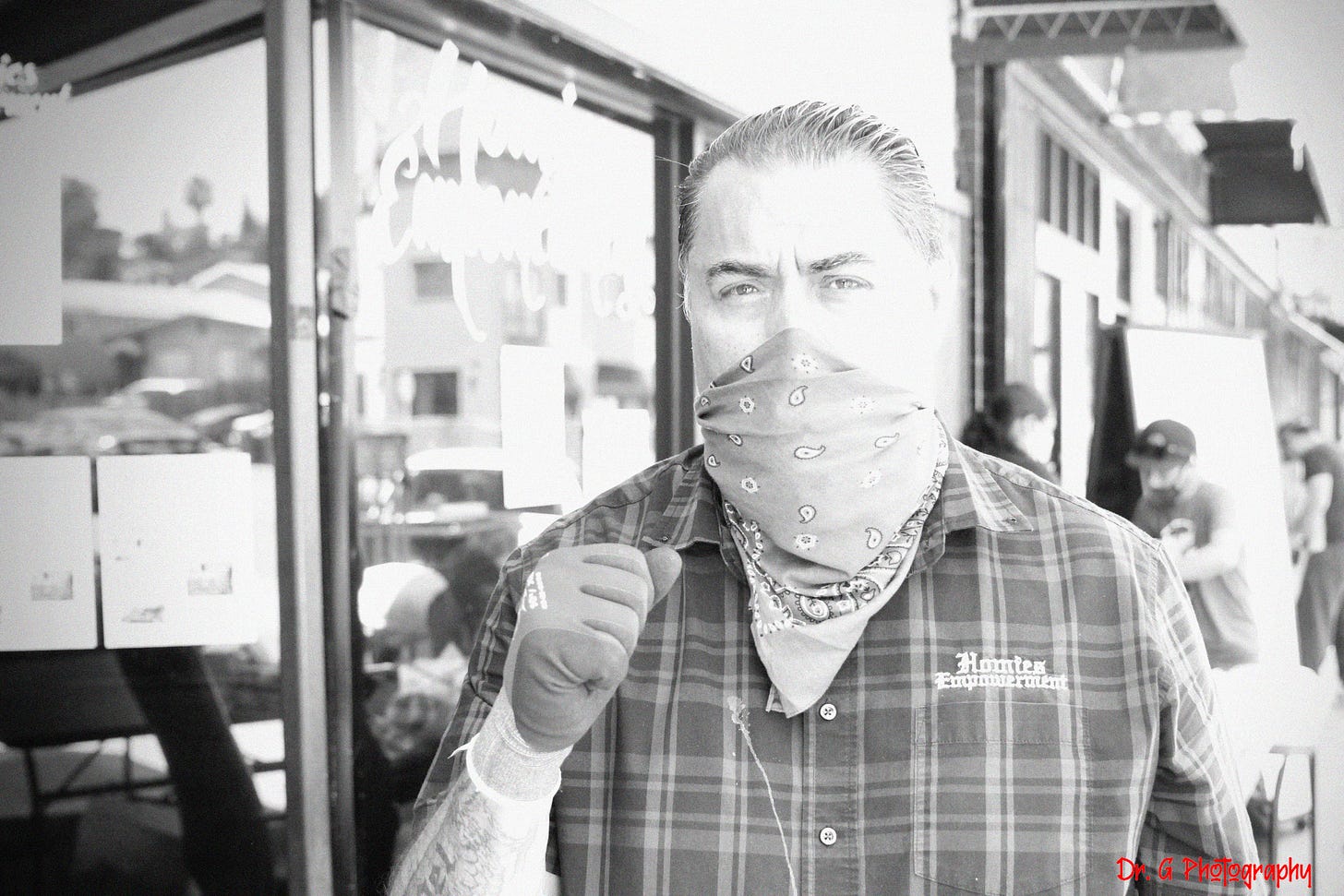 We have some really important customers waiting to shop. Let's make sure the products are organized and beautifully displayed so that our customers can shop with joy and dignity.
That was my first indication this would not be a typical volunteer experience.
At the end of the hour, just before the store was to open, César gathered us all together. Still in masks and gloves and doing our best to maintain six feet of distance, César thanked us for coming (again my paraphrase):
Let me tell you a little bit about Homies Empowerment. We are not a charity. Charities make the people who give feel good about themselves, but charities exist because of unjust systems that keep people in need. We are not engaged in charity work. We are engaged in solidarity work. We made the choice not to be a 501-3c non-profit because so much of being a non-profit is about fundraising. We are all volunteers. None of what you see in this room belongs to us. It is all donated. This table came from D's home. 

We have Revolutionaries in the back who believe in rice and beans and so they are putting together packets of rice and beans. We have a Revolutionary who made these beautiful bags (colorful gift bags with crayons and coloring books) and he passed them out to the children waiting in line. My mother is in that line. My grandmother is in that line. This is our family. These are our people. Think about someone you love—your mother, grandmother, auntie, uncle, cousin—being in that line and how you would serve them. Serve our people in this line the same way.

I don't know your situation. I don't know if you've had a meal today or if you need a meal or two. Maybe you're not feeling okay right now. Maybe you don't feel normal. But these are difficult times—not feeling okay, not feeling normal is actually normal right now. And, that is okay. But, you woke up this morning. You got out of bed. And you came here!
César laughed with real joy.
You're still here. You're still breathing. You have eyes that work. And hands that work. And, legs and hearts and lungs. You're here and I'm glad you're with us.
As César was speaking, I realized that some of the volunteers weren't just the givers of groceries, but also the recipients. I had assumed the volunteers would be givers and the people waiting in line would be receivers. 
But César makes no distinction between those who give and those who receive—all are welcomed with joy and dignity and respect. He does not ration the groceries. He would not question why someone might need six cartons of fresh strawberries and one loaf of bread because he does not judge the recipients nor exalt the volunteers. He welcomes all of us as members of his family. 
César said so much more and I wish I had recorded his words. They were more eloquent, inspiring and moving than I can possibly relate, but the ones that stay me are these:
You're still here. You're still breathing.
We have gone back every week to work in solidarity with our community—it's what gets me through these unsettled, raw and ragged times. I will have more to say about this in the weeks to come, but for now, if you are able, please consider joining in solidarity with us by donating to the FREEdom Store via PayPal (teolol@yahoo.com) or Venmo (@César-Cruz-22). If you would prefer to send a check or if you are local and would like to join us in person, please email me directly at lesliepoynor@gmail.com.
Until next time, stay healthy, safe, and loved, and keep breathing.
Love, Leslie